Positive, For a Change? Part Three
Read Part One

Pagosa First remained a somewhat mysterious organization for its first few weeks of existence. As I noted earlier, the organization formed quickly following the announcement by the Walmart Corporation that a store is planned for the west end of the Aspen Village mixed-use subdivision, overlooking Highway 160 across from Pinon Lake and the golf course. Cynda and I heard about the group as the "anti-Walmart group", so — dedicated Walmart opponents that we both are — we signed up to receive emails from the group as soon as we got the chance, back in early January.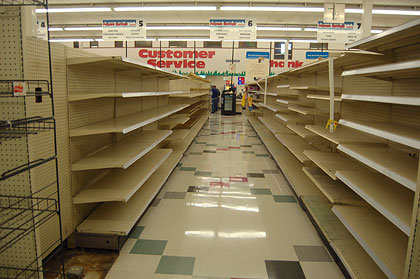 The empty shelves of the downtown City Market in September, 2010, shortly after the store closed its doors. 18 months later, the vacant store shows no sign of acquiring a new tenant.


A week or so later we began to get tentative emails, but we were never invited to actually "participate" in the group. Was it something we said? Or might say?

Okay, so Cynda and I both write for the

Daily Post,

and, occasionally, we write about things that certain people wish we wouldn't write about. There's a certain level of "secrecy" that organizations here in Archuleta County apparently like to maintain, even when they are publicly funded organizations — and the

Daily Post

doesn't generally condone much in the way of "secrecy."

I can understand why Pagosa First — as an anti-Walmart group — might be hesitant, at first, to reveal their plans and tactics openly and publicly. They were, after all, trying to prevent the arrival of the world's largest corporation. This was guerrilla warfare... the indigenous tribesmen, with minimal access to weapons, courageously fighting off the colonial oppressors who come fully armed with attorneys, architects, and PR spin doctors. About the only two weapons Pagosa First could access: the element of "surprise;" and that most crucial of all weapons in a guerrilla war, knowledge of the local surroundings.


Then, a couple of weeks ago, we received a press release from Pagosa First, announcing a somewhat surprising change in the group's apparent direction. The group announced a series of three meetings focused on "positive change". The press releases made no mention of "stopping Walmart" but instead proposed to address some crucial community needs — needs that the group felt were going unmet while our elected and appointed leaders had their attentions turned to more important things such as amusement parks atop Reservoir Hill and new bridges running through the middle of riverside parks, for example.

We attended the third "community forum" hosted by Pagosa First, held at the Ross Aragon Community Center on Thursday, March 15, and found the discussion directed at five very important and fairly specific subjects. At least, the subjects were very important to the 20 or so people in attendance that evening. The subjects to be discussed fell under the following headings:



Hunger




Voting Rights




Downtown Revitalization




Sustainable Community




Monetary Systems



Big topics. As I looked around the room at the 20 ordinary citizens gathered around me, I noted that not a single elected or appointed government leader had attended the meeting — other than the meeting facilitator, Morgan Murri. Clearly, Mr. Murri was

not

appearing as representative of either of the well-funded government-subsidized boards on which he sits — the Town Tourism Committee (TTC) and the Pagosa Springs Community Development Corporation (PSCDC). This evening's group appeared to be an ad hoc group with no real claim to political power beyond whatever grassroots energy they might be able to generate in the community.

(A few minutes later, an authentic elected government official, Archuleta County commissioner Michael Whiting, would join the meeting and the discussion.)

The discussion began with a potent topic, "Hunger." I personally have very little experience with this issue, other than applying for food stamps back in the 1980s shortly after the birth of our second child, when things were a bit too tight financially for us. I think most of us — that is, most of us who have enough food in the pantry to feed ourselves on a daily basis — have a sense that hungry people are being taken care of here in Archuleta County through local food banks such as Pagosa Outreach Connection (POC) and, even more importantly perhaps, though the Archuleta County Department of Human Services (DHS).

According to the 2010 Census, we have about 12,000 residents living in Archuleta County. About 25 percent of them are under the age of 18; that compares to the Colorado average of 31 percent under the age of 18. And about 18 percent of our local residents are over the age of 65; that compares to about 11 percent in Colorado as a whole.

That is to say, we have 25 percent fewer children, and 60 percent more old folks.

We are slightly more educated than Colorado as a whole, with 39 percent of residents over age 25 having a Bachelor's Degree or higher. And our households are considerably more crowded than the average in Colorado, with 3.6 persons per household compared to an average of 2.5 per household in Colorado.

We're also better off financially than the rest of Colorado, on average. The U.S. Census showed more than 12 percent of Coloradans living "below the poverty line" in 2010. Here in Archuleta County the percentage was only about 8.5 percent.

From the discussion at the Pagosa First forum last Thursday, I was left with the sense that our key task, in terms of solving the current "Hunger" issue, is

locating

the people who might be hungry and persuading them to plug into the POC/DHS food assistance systems.

But the "Hunger" discussion also hit on another topic — a topic that would rear its ugly head again, later in the meeting, in relation to "Revitalizing Downtown". Since at least 2010, downtown has been without an affordably-priced grocery store.

The closed City Market store at the corner of South Eighth Street, and just down the hill at the next corner...



...the empty First Southwest Bank building, with a long-vacant Mustang convenience store in the background.

According to the 2010 Census, Archuleta County appears to be a well-educated, mature, financially comfortable community — taken as a whole. But we are also a remote, isolated community greatly dependent upon cheap diesel fuel and well-maintained interstate highways that allow our food to be transported to us from California, Washington, Iowa, Georgia. As the cost of diesel fuel rises — as it appears to be doing at the moment — the cost of our food ought to rise as well. Right? So we might expect that "affordable groceries" will gradually become a larger issue, even for those of us who are well-educated, mature, and reasonably well-off.

At the February 6 "Walmart forum" hosted by the Town Council, the cost of groceries at City Market appeared repeatedly as a leading argument in favor of encouraging a Walmart store in Aspen Village. But ultimately, a Walmart in Aspen Village will not help our struggling downtown. It won't bring affordable groceries to the downtown neighborhood where many of those "8.5 percent living below the property line" currently live. Walmart won't be able to keep food affordable, if the price of oil continues to rise. Walmart won't create a net gain in jobs for the working class, judging by the research I've done on the subject — only "direct based" industries can do that.

The big questions facing Pagosa First and its forum, last Thursday, will remain before us — even if Walmart builds its uptown store, and even if the Town builds its amusement parks and its new bridges.

One of those big questions: Voting Rights.

Read Part Four...