I called the Pagosa Springs Town Hall on Wednesday afternoon, asking to speak with Town manager David Mitchem.

I was told that he was not in his office.

In fact, I was told that he had not been in his office all week, and was not expected back until Thursday.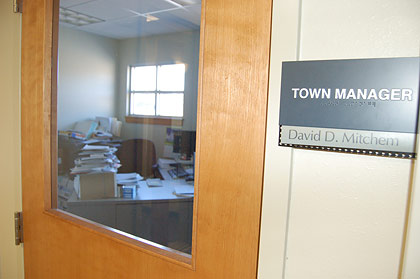 Mr. Mitchem's office at Town Hall was empty on Wednesday afternoon.

This was mildly frustrating for me, because I had just finished reviewing an article written by reporter Heather Scofield and published in the Durango Herald on Tuesday, March 20.

That article begins like this:



In a second go-round at trying to fill the vacant county manager position, all but one of the candidates being considered this time is from Colorado.





Bobby Lieb, chairman of the La Plata County Board of County Commissioners, said the occurrence was "just the luck of the draw" and not something they specifically sought. But it might mean "there will be a better fit" in the group, he said.





"I wasn't comfortable the candidates would be a good fit in the community [during the last search process]," Lieb said.





Lieb and his fellow commissioners approved five finalists, who were selected by a committee made up of county leaders and department heads, to interview for the job next week. They are: Edward Green, former Garfield County manager; Frank Lancaster, Larimer County manager; Joseph Kerby, Delta city manager; David Mitchem, Pagosa Springs town manager; and D. Michael Segrest, of Ralph Anderson and Associates in Avalon, Calif.



"A better fit" is an interesting phrase to choose, in relation to at least one of the finalist candidates: David Mitchem, Pagosa Springs Town manager.


I wrote briefly about Mr. Mitchem yesterday in Part Four of our

Daily Post

article series "Positive, For a Change?" — specifically in relationship to his three-year campaign to bring a Big Box store to Pagosa Springs.

I did not address, in that article, another of the tasks Mr. Mitchem has undertaken since his hiring as Town manager in 2008. That task was to keep the Town from going bankrupt — something that had very nearly happened to our Archuleta County government in 2007 following the unexplained disappearance of nearly $3 million dollars. (That disappearance has still not been fully explained to the public, as far as I can tell. I presume someone stole the money, but maybe I'm just a hopeless cynic.)

Mr. Mitchem's three-year campaign to lure Walmart to Pagosa Springs might have had its origins in the slow but steady decline in sales tax revenues the Town began to experience following the nation-wide financial meltdown in 2008 — just as Mr. Mitchem was interviewing for the Town manager job. Under the leadership of former Town manager Mark Garcia, our little Town Hall had been reaping the benefits from several years of steadily increasing sales tax income — year-over-year increases of as much as 12 percent.

I don't know how many of our readers have experienced that kind of income growth during their lifetimes. That rate adds up to a

doubling

of income every ten years. I can imagine how several years of that type of revenue growth could make a mayor and a Town Council slightly giddy; they might even become accustomed to reckless spending, if they weren't careful.

But by the end of 2009, that situation had changed. Here's a quote from a November 2009 Town Council meeting, where Town manager David Mitchem was sharing some disheartening information — disheartening from the Town's perspective, at least:

"Mayor and Council, I had emailed you an update a few days ago, regarding the September sales tax revenues. Indeed, it shows a decline of 17 percent from the previous year. We are at about an 8.8 percent decline, year to date, on sales tax revenue."

In this

Daily Post

archive photo from November 2009, Town manager David Mitchem, right, was discussing the 2010 budget with the Town Council, as Town planner James Dickhoff listened.

The day-to-day operations of the Town of Pagosa Springs are funded almost entirely by sales tax revenues; less than 10 percent of the Town's General Fund has historically been funded through other types of revenue. The Town Council, however, had prepared for a sales tax decline during 2009, requiring manager Mitchem to cut expenditures by a factor greater than the revenue drop — as soon as those declines made themselves known.

"The policy that you have in place currently would mandate a 15 percent expenditure reduction," Mitchem had noted. "We are currently at a 15 percent expenditure reduction, so my recommendation is to stay right where we're at."

Mitchem and his staff had been keeping 2009 expenditures below 2008 levels, in part by leaving some vacant job positions unfilled. Many of the Town's staff duties in recent years had been focused upon the approval of building applications, annexation requests, and subdivision proposals.

I can imagine how it must have felt to our Town leaders — after many years of steadily growing revenues — to now leave job positions unfilled, to see potholes growing in their downtown streets, to see their municipal geothermal heating utility beginning to fall apart, to see vacant commercial properties appearing in the heart of downtown.

During 2011, the sales tax decline apparently bottomed out, and Town Hall began to see some modest year-over-year revenue increases. But as our 2012 tourism season prepares to kick off, our business owners are watching the price of gasoline approach $4 a gallon. Not a pleasant sight, in a town whose economy has become ever more dependent, since the construction industry crash, upon the willingness of Texans to fill their gas tanks and drive to mild-and-sunny southern Colorado to spend their summer vacations.

A Town Council that relies on sales taxes for 90 percent of its spending power, and that had grown accustomed, over many years, to steadily growing sales tax revenues, hires a new Town manager just as their revenues begin to take a yearly tumble downward.

Should we wonder that the Town might want, more than anything, to see the world's largest Big Box discounter build a store within the Town boundaries? How many millions of sales tax dollars might that retailer generate for the Town government?

On the other hand, how many small, locally-owned businesses might close their doors?

Read Part Two...