Here's a timely press release from the U.S. Forest Service that arrived on Wednesday, June 6, when the

Little Sand Fire

was only about 5,000 acres in size:





Pagosa Springs, Colorado

– The U.S. Forest Service has announced that it has awarded a long-term stewardship contract to J.R. Ford of Pagosa Springs (doing business as Pagosa Cattle Company), for removal of saw timber, products other than logs, and biomass on the San Juan National Forest. Operations will include forest thinning and biomass removal from public lands managed by the San Juan National Forest's Pagosa and Columbine Ranger Districts. Projects will take place within a 50-mile radius of Pagosa Springs in areas currently identified by the agency as needing forest restoration and by counties as posing wildfire risks to adjacent private lands.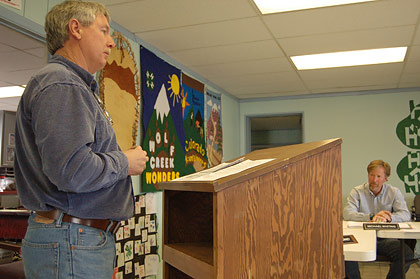 Local entrepreneur J.R. Ford making a grant presentation to the Archuleta Board of County Commissioners at the CSU Extension Building last March.

The total value of the contract, which was bid competitively, is up to $4.5 million over the 10-year life of the project. The contractor will pay for wood products removed from the National Forest, which will help defray the agency's costs for the fuels reduction accomplished. As an added benefit to the community, Ford plans to generate energy from the woody biomass removed from the National Forest.

"We will achieve fuels reduction and forest health improvement at the same time on lands that have already been approved for such treatment through environmental analysis and public review," said Steve Hartvigsen, Pagosa District Forester. "The focus is on treating lower-elevation forests of Ponderosa pine and warm-dry mixed-conifer. We expect between 1,000 and 2,000 acres to be treated annually under this contract."

The long-term contract offers the Forest Service an efficient method of improving the health and resiliency of a large heavily forested area, thus reducing community concerns related to fire danger.

"The added benefit is that woody material, such as chips, slash and limbs will also be removed," Hartvigsen said. "This will allow us more flexibility to conduct future prescribed burns in some areas to foster protection from damaging and dangerous wildfires while better meeting comprehensive objectives for forest restoration."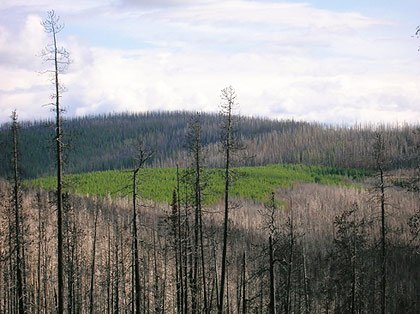 Within a burned Montana forest, a previously clearcut patch forms an island of green, following the 2007 Brush Creek Fire near Whitefish. Photo by Derek Weidnesee.


Hartvigsen says projects will generally require only surface and drainage maintenance on existing forest roads to allow the contractor access to treatment areas.

"We're excited about the potential for this type of project to spread across the west, where communities can receive direct benefits from forest health projects on public lands," said Mark Stiles, San Juan National Forest Supervisor. "We have been working on this for several years and appreciate the support of the community, agency leaders and the many others who helped to bring it to fruition."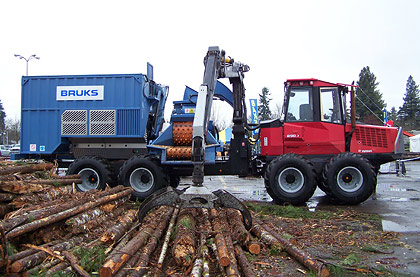 A 'biomass' processing rig owned by Renewable Forest Energy LLC — a truck that grinds small diameter trees into "fuel" — might help return Pagosa Springs area forests to healthier "pre-settlement conditions".
The Daily Post published a somewhat more extensive discussion of Mr. Ford's biomass project in a series of articles published last March: "Seeing the Forest for the Trees". You can c
lick here to read those articles.